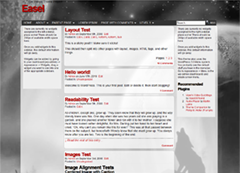 A parent theme for WordPress that has many adaptable hooks and filters to allow for an abundant of different addon's and features.
This theme has been designed from years of development of the ComicPress theme.
Tech Support can be found in the forum.
Features
All of the latest and greatest features of WordPress 3.0
Customizable layout's via layout-head and layout-foot files.
Hooks and Features for advanced customization and creation of Addons.
Built as a parent theme to allow even more customization via child theme.
A generic empty style.css with default style for when a child theme is not present.
Plethora of additional widgets.
Additional Avatar's set creation ability for users who do not have a Gravatar
Associated plugins that hook into the theme for yet, even more functionality.
Multiple different layouts
Several different schemes (looks for the site)
Addons
Showcase
Members Only
Casts for Comic Easel
ComicPress Light
CommPress Podcast/Media Cast
Plugins
Comic Easel
Portfolio Easel
Art Easel
* Some plugins and addons are not currently available to the general public.
Get Easel